Get a little funky with your Halloween luminaries with help from Designer Dawn! Get the Glue Dots and a clean milk jug for a spootacular way to light up your home!
Designed by:
Dawn Barrett
Time:
20 Minutes
Level:
Beginner
Size:
11" x 5" x 5" inches (approx)
A spooktacular way to reuse milk jugs during the month of October. Line them along your drive way or porch to light the way on Halloween night!
Here's what you need: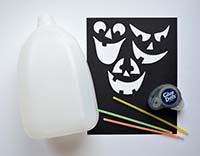 Here's what you do: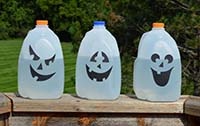 Use your electronic cutting machine to cut out a jack-o-lantern face out of black cardstock for each luminary.
Fill your clean jug 2/3 up with water and screw on the lid. Dry off the outside of the jug completely before the next step.
Using Advanced Strength, apply the jack-o-lantern face onto the side of the milk jug. Make sure the handle is to the back and not the side of the face.
When night falls, crack a glow stick and add it to the inside of the luminary.
Goo Gone works well at removing stickers.
Nail Polish Remove will take off the date that is printed directly onto the jug.
Use a funnel to add extra water after the jack-o-lantern face has been applied.
~Dawn