Do you know someone who LOVES Candy Corn? This is the perfect little treat basket to brighten their day! You'll want to add this to your autumn home decor too! Designer Dawn show you how to make this cute little basket.
I love Candy Corn and SVG Cuts, so today I'm combining the two!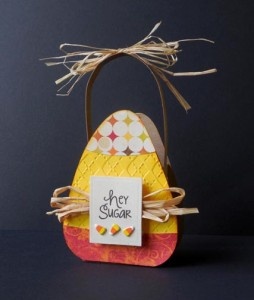 Here's what you need:
Patterned papers
Sentiment stamps
Decorative brads
Raffia
Other embellishments as desired
Here's what you do:
Follow the cutting directions to cut out a candy corn shaped box.
Use Ultra-Thin Glue Dots to layer the pieces together.
Use Pop up Glue Dots to give dimension to the sentiment.
Use Craft Glue Dots to secure craft items such as raffia.
Then, fill with sweet treats for the goblins in your neck of the woods!
Thanks for stopping by!
~Dawn