Designer Dawn is on our blog today with a gift for someone who deserves a little thank you! Who do you know who could us a hand?
Designed by:
Dawn Barrett
Time:
10 minutes
Level:
Beginner
Here's what you need: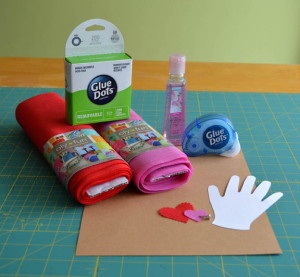 On one a piece of white card, trace your child's hand and cut it out to create a template. Use the template to cut two hands out of colored card stock.
Using your Sizzix Big Shot, cut Scalloped Hearts out of the Oly*Fun Multi-purpose Craft Material and use Permanent Glue Dots to adhere them together.
Push a rhinestone brad through the two layers to embellish.
Write your note or message on the hand cut out and then secure one hand on either side of the bottle with Removable Glue Dots.
Use Permanent Glue Dots to add the decorative heart on top of the hand.
Who would you give this deserving hand gift to? We can think of a few teachers who would really like this!
~Dawn