Make an indoor snowman with the kids and leave the mess outside. This kids craft from Designer Dawn can be modified for a small group or classroom. Designer Dawn shows you how.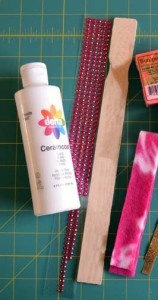 Here's what you need:
Unfinished paint stirring sticks or wooden sticks
3" Popsicle Stick
White and Black acrylic craft paint
Rhinestones (Eyelet Outlet)
Holly leaves
10" x 1" fleece strip
Buttons (Bella Blvd)
Orange Sculpley dough
Googly eyes
Sponge brush
Scissors
Drill with 1/4" bit (optional)
10" gold ribbon (optional)
First, if you want to be able to hang your snowman after it's made, drill a small hole (1/4 inch) near the top of the paint stick. This will be used to tie ribbon through at the end if you want to hang it up on a tree.
Using a sponge brush, paint your paint stick handle and the small Popsicle stick black. Then, after the black paint dries, paint the long portion of the stick white. You will need two coats for good coverage.
While the paint is drying, create orange carrot "noses" out of the Sculpey dough. Bake according to the package directions.
Tip: For large groups, paint the paint sticks and bake the noses ahead of time.
Adhere the small Popsicle stick with 1" Glue Lines to form the brim of the hat.
Embellish the hat with holly leaves and rhinestones using Mini or Micro Glue Dots.
Add googly eyes and carrot nose using Mini or Micro Glue Dots.
Then, wrap the fleece strip around the stick, securing it with All Purpose Glue Dots. Use scissors to make a fringe on the scarf.
Finally, add buttons down the center with Mini or All Purpose Glue Dots (depending upon the size of your buttons) to finish your snowman.
If you drilled a hole at the top of the paint stick in step 1, add the gold ribbon through the drill hole in order to hang your snowman on the tree.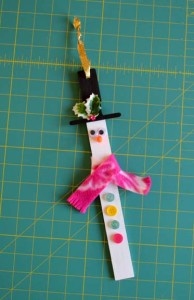 Don't forget to write the name of the child on the back of the snowman when it's done so you know who it belongs to!
Happy Holidays,
~Dawn