Display your baked goods in a pinch with Glue Dots Advanced Strength Double-Sided Sheets – Now at Walmart! Designer Dawn returns with a simple and stylish DIY cupcake display.
Presenting homemade baked goods for a school or work function shouldn't be difficult or time consuming. Here is a clever way to show off your baking abilities at your next family function, banquet, or to your neighbor.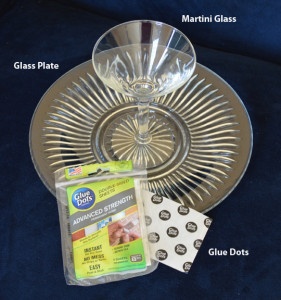 Here's what you'll need:
Tip #1 – When selecting a plate and martini glass for this project, make sure they each have a flat bottom. This will make it easier to adhere them together.
Here's how you put it together:
First, thoroughly clean the glass plate and martini glass. Trace the bottom of the glass onto an Advanced Strength Double-Sided Sheet. Draw a second line inside of that to create a ring. If your glass is wider, piece together the adhesive sheets.
Peel off the liner from one side of the adhesive and press it firmly around the edge of the bottom of the glass.
Peel off the second liner from the adhesive and firmly press the glass to the underside of the plate. Be sure to keep everything centered nicely.
Optional - Decorate the stem of the martini glass using a Glue Dots Repositionable Dispenser. You can also use Repositionable Double-Sided Sheets, but I found the dispenser easier to work with for decorating. This way, you can change out the decor to match the holiday, season, or celebration.
Use the Repositionable Dispenser to adhere a paper doily to the plate. This will keep it from sliding around and can be easily changed without leaving behind a residue on the glass.
Tip #2 – Use a damp cloth to wipe this cupcake display after each use.
This is a quick, clean project that is easy to accomplish in a pinch thanks to Glue Dots Advanced Strength Double-Sided Sheets and Glue Dots Repositionable Dispenser – Available at Walmart!
Now, all I have to do is clean up the kitchen from the cupcakes.
Thanks for reading,
~Dawn